Mr Modi, whatever the outcome of the Delhi elections, its time for the BJP to pause, take a deep breathe and chart out its future strategy and there is a certain need to reflect & for some course correction.
He won the elections at the Lok Sabha on the Development plank and won with a thumping majority cutting across geographies, religions, caste & creed. It worked in the Lok Sabha elections and will work again.
People have voted in favour of Modi in huge numbers at the Centre and in states like Maharashtra, Harayana, Uttarkhand, etc. If Modi fails to check his hardliners and right wing elements within the BJP party, he will be a huge let down on the confidence reposed by the people of this country, much akin to what Manmohan Singh did in his earlier stint.
He won on a platform of clean and good governance and because he was able to point to his development record in Gujarat. India was tired of the corruption scandals and the indecision that marked UPA 2. After having watched a weak-kneed Manmohan Singh sleep-walked through the last three years of his prime ministership, the electorate wanted a strong leader; a man who did not fear anyone, who did not take orders from party high commands and whose word was final.
The Hindutva lobby sees Modi as its own man. No doubt their loyal foot soldiers campaigned tirelessly for Modi on the field and were largely instrumental for his win. In their minds, therefore, Modi's victory is their victory.
It has emboldened them to think, that it gives them the right to push its long hidden agenda as can be seen from some its actions :
"ghar wapsi" campaign

blatant threats to hold mass reconversions

Controversy over "love jihad"

Attacks on churches & religious places

Where was the need to make Christmas Day a working day, when the whole world observes it as a holiday and is an important festival to the Christians

Forcefully marrying couples on Valentine Day

The sudden love and felicitation for Nathuram Godse

Oppose anything critical about Hindiusm, even if it a picture of imagination or a fiction (PK film)

Trying to impose Hindutva curriculum in schools
The problem with the issues that the Hindutva camp is now raising is that they put Modi exactly where he does not want to be: On the side of aggressive Hindutva. During the general election campaign, the Congress tried hard to portray Modi as a Hindu extremist. He swatted off those attacks by suggesting that this kind of secularist typecasting was the last refuge of the corrupt and inefficient.
But now, it is Modi's own supporters who have raised the aggressive Hindutva issues. And he doesn't seem to know how to respond to them. Consequently the battlefield has shifted from Modi's chosen area of development to communalism, an area that he had hoped to avoid. Suddenly the Nation, the society at large is being polarised. What the Congress could not do, the parivar has now achieved.
All this also seriously impacts Modi's larger constituency, the people who voted for good governance, growth and strong leadership. Modi can claim, quite reasonably, that he needs a little more time to revive the economy. But he finds it difficult to explain why he does not control right wing fringe elements in the party. We know that such communal issues as love-jihad do not win elections as the by-elections in Uttar Pradesh demonstrated. We know also that when the BJP talks of development as it did in Haryana and Maharashtra, it rises to record heights.
So why then does Modi make no effort to chastise the right wing elements who have hijacked his agenda? Why didn't he openly distance himself from the more poisonous rhetoric? It is easy – and largely non-controversial – to condemn the Godse cult or send out subtle signals by attending a screening of PK. And yet, he chose to remain silent or does very little – reminiscent of the previous Prime Minister.
And the less he does, the weaker he seems. India voted for a strong leader, one who did not meekly give in to party high commands or activists. Tolerant and liberal Indians, who constitute the majority of Modi's electoral support base, are now saying: " This is not what we voted for. Is this man not strong enough to take on the right wing elements who want to push India back to the medieval era?"
Already there is a huge blemish & a piggy back that Modi carries as a result of the Gujarat riots and there were many who doubted his Secular credentials. However he managed to steer away from it by following a Development Agenda and rightly so. There were many skeptics who feared that with BJP coming to power there will be religious polarization in the country and its seems to be coming true.
However the right wing fringe elements and hardliners in the party, are taking advantage of a BJP rule and pushing their own agenda in a small way, that has catastrophic effect on the Nation and the party. Unless the Prime Minister steps in and nips it in the bud, it will spread like a cancer and will ultimately cause the downfall of the party.
What an opportunity India had when it had Obama at our doorstep. It was a great achievement to our Foreign diplomacy and also the personal leadership of Prime Minister Modi. However his parting remarks New Delhi last month was a polite message to Modi & India that we need to wake up to some irritant in the India Development juggernaut and has somewhat spoilt the otherwise good party.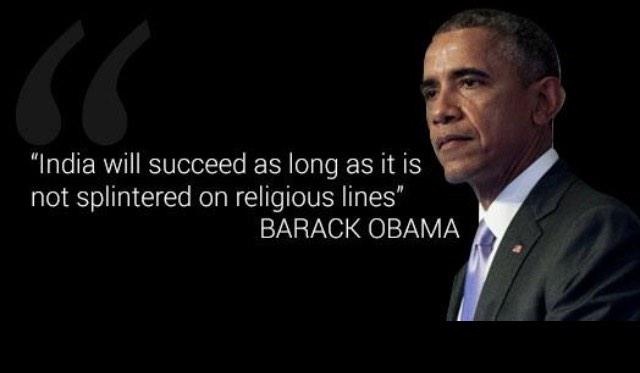 In his Siri Fort speech, Obama said, 'Every person has the right to practice their religion and beliefs and not practice it if they choose so without any persecution.'
The US president asserted that all progress was predicated on social inclusion, declaring, 'That's what makes us world leaders — not just the size of our economy or the number of weapons we have, but our ability to show the way in how we work together, and how much respect we show each other.'
'Our nations are strongest when we see that we are all God's creation — all equal in His eyes and worthy of His love,' Obama said, adding, 'Freedom of religion is written into the founding documents of the two democracies. It's part of America's very First Amendment. Your Article 25 says that all people are equally entitled to freedom of conscience and the right freely to profess, practice and propagate religion.'
'India will succeed so long as it is not splintered along the lines of religious faith — so long as it's not splintered along any lines — and is unified as one nation.
That every nation is stronger when people of all faiths are free to practice their religion free of persecution and fear and discrimination," he said.'
Not to stop at his parting comments in India, the US President Barack Obama's reiterated again in Washington that religious intolerance in India would have shocked Mahatma Gandhi.
The New York Times asked Prime Minister Narendra Modi to break his "deafening silence." "What will it take for Prime Minister Narendra Modi to speak out about the mounting violence against India's religious minorities?" asked the New York Times on Saturday in an editorial titled "Modi's Dangerous Silence".
"Attacks at Christian places of worship have prompted no response from the man elected to represent and to protect all of India's citizens," said the influential daily. "Nor has he addressed the mass conversion to Hinduism of Christians and Muslims who have been coerced or promised money," it said.
"Modi's continued silence before such troubling intolerance increasingly gives the impression that he either cannot or does not wish to control the fringe elements of the Hindu nationalist right," NYT suggested.
India has moved a long way. We are now in the 21st Century and are being viewed as a serious rising Nation in the world.
He has done well on other fronts – the economy, foreign policy, governance, decision making etc. However this blot on Religious Intolerance is threatening to derail the good image & work carried out by the BJP government.
Every action of ours are being scrutinised domestically and internationally. People are more connected, there is free flow of information and citizens are increasingly becoming conscious of their rights. We have the potential to become an emerging Super Power amongst the comity of nations. However we need to shape our future in a way that we will be respected for our deeds.
At this stage, Modi will have a difficult choice. He will either have to throw in his lot with the right wing lobby, in which case he risks alienating his larger constituency. Or he will have to rein in them, in which case he risks antagonizing his original support base.
It won't be easy. Mr. Prime minister, but your continued deafening silence on such important issues is sure to dent your image and
ultimately
cause your downfall and it will be a huge betrayal of the faith reposed on you by the millions, as you have rightly said "putting India First".
Its time you reflected and did a course correction and move to the "Development Agenda", put India's interest ahead of the right wing elements interests and ensure a Secular India where
people of all faiths are free to practice their religion free of persecution and fear and discrimination.
Hope you

realize

that you cant walk a tightrope forever….